The American Poultry Association is pleased to honor
Arling "Butch" Gunderson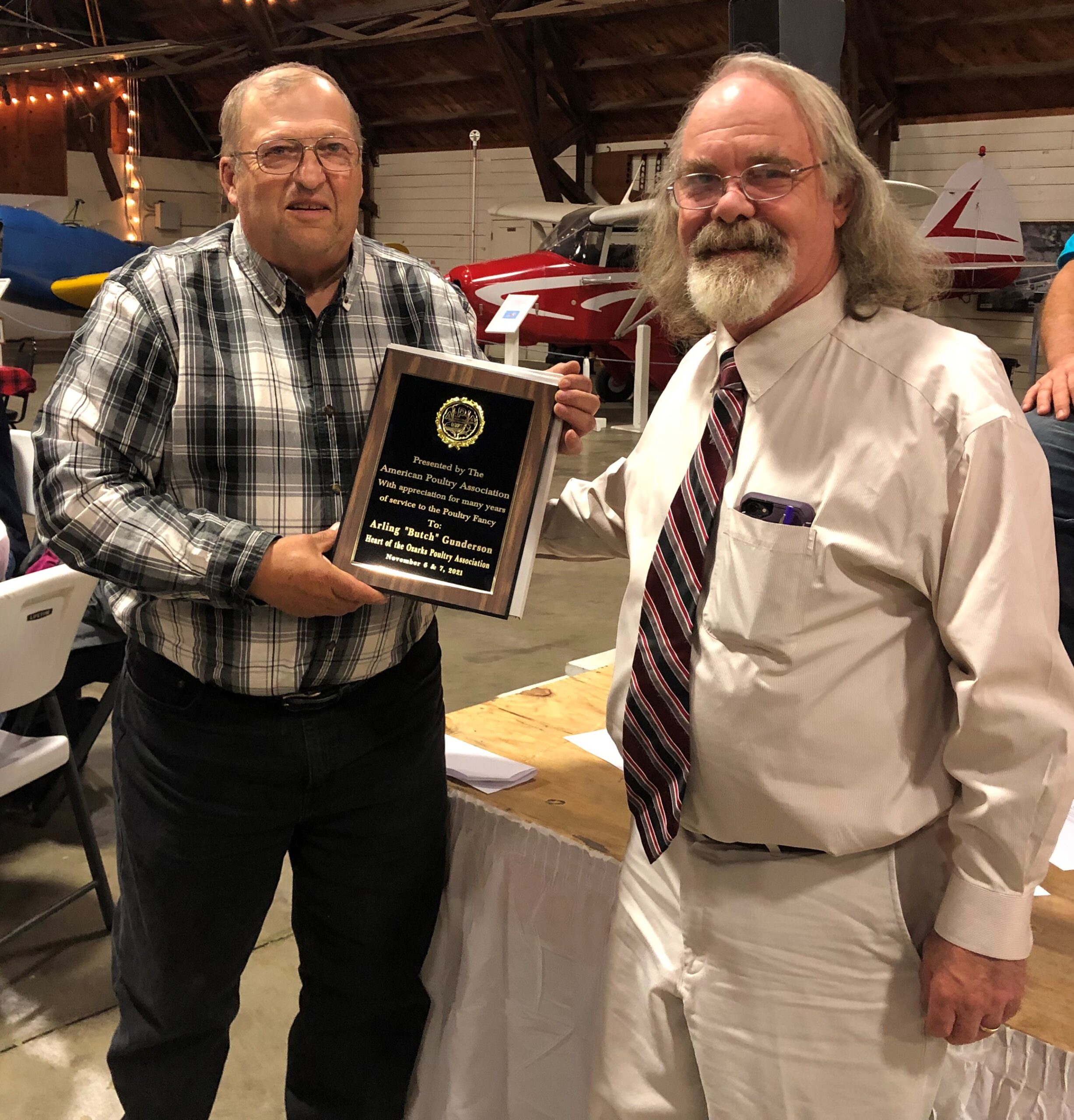 Arling "Butch" Gunderson (left) receives the award from Sam Brush, APA Members Honors Committee Chair (right) at the APA's 148th Annual Meet on November 6, 2021 hosted by the Heart of the Ozarks Poultry Association show in Fayetteville, Arkansas
A few words from Arling "Butch" Gunderson:
I was raised on a dairy farm in southern Wisconsin, and was the oldest of six children. My only interest was in showing dairy cattle at this time. In high school I was asked to be a part of the FFA baby animal farm security team. I met Reg Doubleton of the Fort Winnebago Poultry Club who introduced me to the poultry world. The four years of FFA expanded my life in many ways: Top Green Hand award, Corn Growers award, Columbia Co. Holstein Boy 1968, and chapter President my senior year. I attended University of Wisconsin Farm and Industry short course 1968-69.
Uncle "SAM" called and I joined the U.S. Navy August 4, 1969 and achieved the rank of E-5 Aviation storekeeper. I came home to start farming. I met the love of my life and married Mary Ellen Leonhart on October 11, 1975. We moved to the home farm on March 1, 1976. We were blessed with 2 children, Gerald and Laura. The Registered Holstein business started along with ornamental pheasants and white leghorn bantams. In 1987, the fair board asked me to take over as poultry superintendent. The Fort Winnebago poultry club ended and I received many birds from the older breeders. I am still poultry superintendent 33 years later. In 1990, the fair board asked me to join the board and I retired in 2020 after 30 years.
We started showing in 1988 at the county fair and state fair. My son Jerry won grand at the county fair and champion bantam and grand champion at the Wisconsin State Fair on a white Leghorn bantam from the Ken Cooke line.This led to me joining the APA. Under the advice of local fair judges, I became a county fair judge of poultry in 1995 and I have judged 10-12 fairs every year for 25 years and still love it. In the following years we purchased Plymouth Rock chicks from Bill Krueger of Manitowoc, WI and showed together with Paul Ashbrook. We also started with Blue Andalusians, my daughter's choice. We still have them 33 years later and I showed 2 hens today. While showing I was hanging out with the waterfowl people and soon became one. I met Rodney Haefs at the Minnesota show in the mid 90's, they have lots of waterfowl and dairy cattle and we are best friends forever. I also met Duane Urch and got chicks several years for the 4-H kids. With many waterfowl people in the Midwest, my waterfowl interest expanded. Brown Africans and American Buff geese moved in with Pekins and Rouens. I received my Master Exhibitor award #536 in 2002.
I entered the APA Judges program in 2003 and in 2006 became an APA General Licensed judge, one of many highlights of my life, and began judging all over the USA and Canada. I love talking to breeders and exhibitors about their breeds, it makes a better judge. In 2003, Duane Urch thought about retiring from the APA Board of Directors and asked if I would like to run for his spot. I said "yes" I would run for District #5 Director. I was District #5 Director from 2004-2008 and then APA Vice President 2009-2013.
In 2004, the Wisconsin International Poultry Club moved from Janesville to its new home in Portage, WI. I served as the club's president for 17 years and still serving as show superintendent over 25 years. I still love raising and showing poultry, poultry people are the best friends.
I would like to thank the APA Board for their nomination of this honor, and I also would like to thank the membership for their support.