The American Poultry Association is pleased to honor
John Smith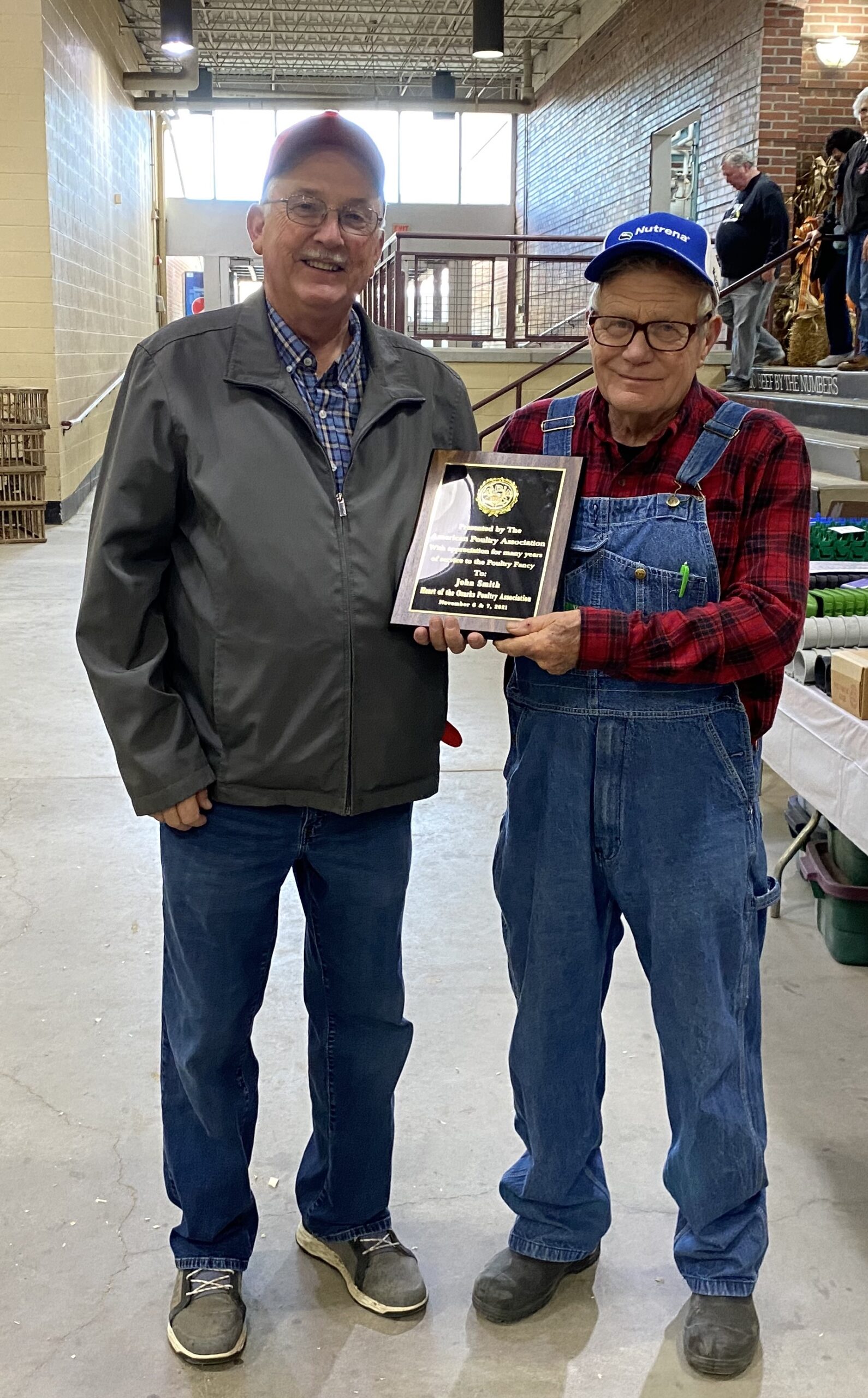 Bart Pals, APA Vice President (left) presents the award to John Smith (right) at the APA's 148th Annual Meet on November 6, 2021 hosted by the Heart of the Ozarks Poultry Association show in Fayetteville, Arkansas
A few words from John Smith:
I want to thank the Board of Directors and the Honors Committee of the American Poultry Association for selecting me to be an APA Honoree at the 2021 Annual Meet in Fayetteville, Arkansas.
My interest in feathered creatures began in 1952 when at the age of fifteen I got some ringneck pheasant chicks from the feed store in Merriam, Kansas. I added other pheasant species and many francolin species to my growing collection. When it came time for me to serve in the army, my parents cared for my birds which now included several varieties of bantams and Standard Rhode Island Red. During the 50's and 60's I showed poultry at the America Royal in Kansas City, Missouri, and the Kansas State Fair.
In 1981, I married my wife Terry. I have two daughters from a previous marriage and she has one daughter from a previous marriage. When we moved to our farm in Bucyrus, Kansas, I resumed raising birds. In the 80's I showed Black Breasted Red Old English at the Johnson and Miami County Fairs. Over the years, I have kept many varieties of poultry including Black Sumatra, Cubalaya, Malay, Black Copper Marans, Japanese, Modern Game, and Silkies, but I have never shown at sanctioned poultry shows because of my business.
In the late '80's, I wanted to make some money so I could travel to swaps to sell surplus birds so I purchased Biotin Stress Pack and Terramycin Powder from the Salisbury Company. The late Glenda Heywood and Eugene Bernard were very helpful in giving us names of companies to contact for purchasing supplies. I eventually added more products and became distributors for GQF Manufacturing and Kuhl Corporation so I was ready to start Smith Poultry and Game Bird Supplies. Bill Wulff helped me do our first catalog which was mailed out with the February issue Poultry Press until 2019.
To help our business grow, Terry and I set up at swaps and exotic sales in Macon, Missouri, and Shawnee, Oklahoma. At Shawnee, we met Jimmy Gibson who told us about the Oklahoma State Federation Poultry Show at Shawnee. We have set up at every OSFPS since then. Shortly after that we started selling at the Ohio National, the Minnesota State Poultry Show, and the Wisconsin State Poultry Show. Over the years we have set up at shows in Kansas, Arizona, Colorado, Missouri, Nebraska, Illinois, Iowa, Indiana, and Tennessee.
I guess my contribution to exhibition poultry is to travel to shows and display products which poultry fanciers need and use in preparation for showing their birds. When I had to have a pace maker installed and a heart valve repaired in 2019, and couldn't do any lifting, fanciers at the Minnesota State Poultry Show, the Norman Oklahoma Show, the Ohio National, and Shawnee, Oklahoma Show helped Terry unload and then reload the van after the show was over. I enjoy going to the shows and visiting with the exhibitors. Over the last thirty years of doing shows, I have met some great and interesting people and for that I am thankful.