The American Poultry Association is pleased to honor
Rodney Haef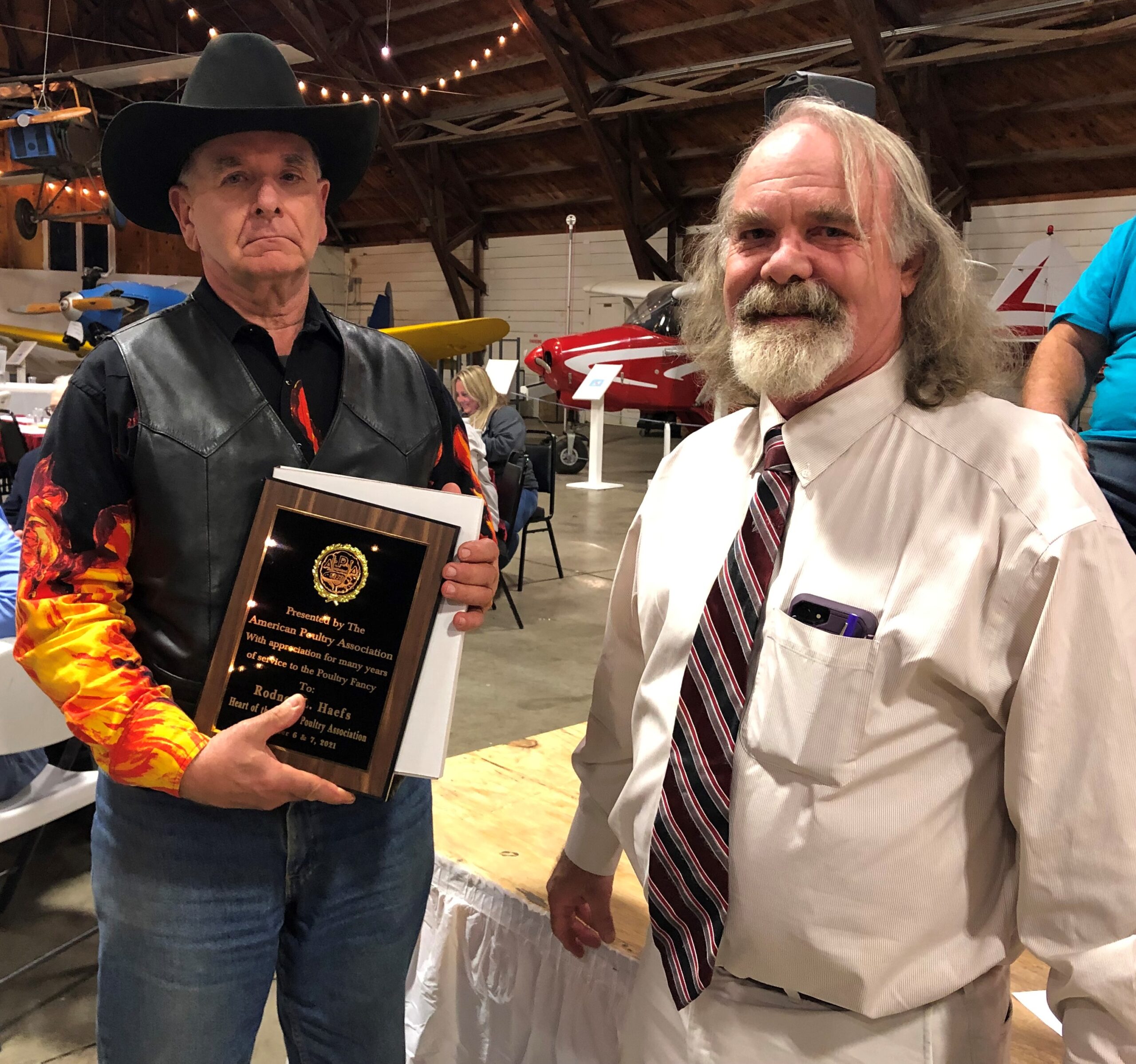 Rodney Haef (left) receives the award from Sam Brush, APA Members Honors Committee Chair (right) at the APA's 148th Annual Meet on November 6, 2021 hosted by the Heart of the Ozarks Poultry Association show in Fayetteville, Arkansas
A few words from Rodney Haef:
I was born in 1951 in Henderson, Minnesota and I have lived my entire life here on this farm.  My Dad purchased and moved onto this Farm in 1947 after he had spent 5 1/2 yrs in the Army during WWII. My Mother brought the poultry onto the Farm.  In 1950 she bought a Sears 6 tray Redwood Incubator.  She hatched and raised on average 200 ducks and geese each year that she would dress out in the fall for the Holiday seasons.  She also would get 900 Leghorn chicks in the Spring each year for her laying flock.  In the fall we would cull out the old layers and move the productive ones into another barn and all of the Pullets would get put into the main barn.  This barn now holds all of the breeding pens for 30 plus breeds and varieties of large Fowl and Bantams we breed.
My Mother stopped raising large numbers of Ducks and Geese in the late 50's, she lent her Redwood incubator to her sister at that time.  I've always had an interest in breeding livestock.  In the early 60's I had a few farm type ducks and geese that I would hatch under setting hens; I hatched this way until 1966.  I then got my Mother's Sears incubator back from my Aunt and started hatching ducks and geese this way.   I didn't learn about Exhibition Poultry till 1966.  I'd won a 4-H trip to the Minnesota State Fair with one of my Dairy animals; I also met my future Wife that year as she had won a 4-H trip from our County with her White Rock chickens.  The 4-H birds were housed in the same building that the Open Class birds were in.  It was then that I found out about "Purebred Poultry" and I fell in love with the Dewlap Toulouse and the Rouen ducks.  Every year after that I would check out the Open Class birds at the Minnesota State fair.  I graduated at 17 yrs old in 1969, turned 18 in August and my Draft Lottery number was 101.  So I decided to sign up on my own in September and I was sworn in on Dec. 5th 1969. I got out in Dec. 1975  and I then bought myself some Rouen breeders and Dewlap Toulouse goslings that next Spring and have bred and raised Standard Bred Poultry ever since.  I started out with Waterfowl and not long after I got into chickens.  My first breed of Chickens were Large and Bantam Silver Laced Wyandotte's and I still have them to this day.  I have bred and raised just about every breed and variety of Waterfowl and many varieties of Wyandotte's, Leghorn's, Red's, Hamburg's and other's over the years.
I was fortunate during my early years to meet and become friends with some of the people who I consider the Best Poultry People of the time, they all taught me different things about Waterfowl and Chickens.  Edwin J. Mielke, Norman Kardosh, Francis Novinger, Gary Rayl, Harold Halbach, Gerald Donnelly, Harold Thomforde, Richard Fox, Walt Leonard, Lew Cunningham, Dr. David Reath (Dr. Reath took the time to teach me how to AI Toulouse Geese), Doug Kreidler, Allyn Frericks, Darrell Sheraw, John Wunderlick, C.E. Gillihan, Herb Holtz, John Tilt, George Tilt, James Tilt, Don Roscoe (Don Roscoe was my main Mentor, the phone calls that we would have in my earlier years!), Duane Urch, Wilmar Vorwerk, Henry Plagge, Bob Coulter.  All of them were "Great Poultry People" and they taught me a lot about the finer points of type.  Several of them convinced me to go for my APA Waterfowl Judging License which I got in 1987.
When my 6 kids were younger, my wife, kids, and I would show a lot of Poultry.  We would Coop in up to 250 birds at a Show.  As the kids got older and my Wife and myself too, we slowed down and then stopped showing for awhile.  Now my two sons Daniel and Cody have resumed showing birds.  Without my wife and my kids, I would never have gotten as far as I did with the Poultry.
Over the years I've bred a lot of Cattle in Holsteins, Ayrshires, Jersey's, Milking Shorthorn's and Spot Hogs.  I enjoy Genetics and putting mating's together.   But all in all the Poultry has been the most welcoming.  The Poultry People have become better Friends and are more like Family to us.
Over the years I have worked on getting three new varieties of Waterfowl  admitted into the APA Standard: White Africans, Snowy Mallards and Buff Africans.  We're currently working on Buff China's and Snowy Runner's.
I'd like to thank the APA for this Honor.  It was something I never imagined on getting.
Thank you,
Rodney Haef