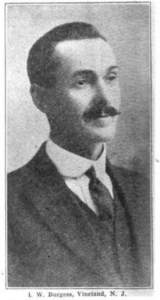 Irvin Web Burgess was born May 11, 1880 in Wisconsin, based on his WWI draft registration card. A funny side note, in the "height" section on the draft card it only says "tall".  The 1920 Census lists him as a lump worker at a glass factory in Vineland, New Jersey.  He was married to Flora Burgess and had two daughters, Viola and Beaulah.
Exact information on his death has not been located to-date.  A significant problem with researching him is that he is variously known was Ervin, Erwin, Irvin and Charles.
Mr. I. W. Burgess was first contracted to work on the 1905 A.P.A. Standard, creating eight illustrations for it. He created 32 illustrations for the infamous Standard of 1910 and as noted elsewhere all except one of those was tampered with by the engravers/printers.
From his employment as artist at the Inland Poultry, later Reliable Poultry Journal and then Poultry Success, it appears as though his work for the Standard was done only as contract work.
The Poultry Success article of 1915 mentions his illness that had forced him to give up much of his artwork which may have been the reason for his not contributing more to the Standard projects.
He passed away in 1920 at the age of 39.

Below are a few excerpts regarding Mr. Burgess that were published in historical poultry journals and samples of his work taken from the American Poultry Association's Standard of Perfection can be found throughout this article.
Taken from Everybody's Poultry Magazine – June 1920
What is the matter with the poultry editors these days in not giving us the news? Recently while on an eastern trip I learned that Artist Burgess had passed away. We have not heard much of any of the poultry artists since the war started.
Mr. Irvin Burgess was well known and popular among all poultry fanciers. Quiet and unassuming, he made many friends in his quiet way who will miss him. He was a natural artist and his love for fine fowls gave him the instinct, insight or whatever it may be called to depict life as
shown among our feathered friends. He drew many of the standard illustrations, his best work being on the Wyandottes. Hanging over my desk is an oil painting, on leather, of a White Wyandotte female head, and it looks as if she were about to sing.
For the past few years Mr. Burgess had lived at Vineland, N. J., where, I understand, he had been working in the glass factory, doing some poultry art work on the side.
To Mrs. Burgess and the children go the deep sympathy of many of his old friends.
By Editor Hale

American Poultry Journal reports death of I. W. Burgess
I. W. Burgess, well known as a poultry artist recently passed away at his home in Vineland, N.J. Mr. Burgess first came into prominence by his artwork which appeared in Inland Poultry Journal.  He was later connected with Reliable Poultry Journal.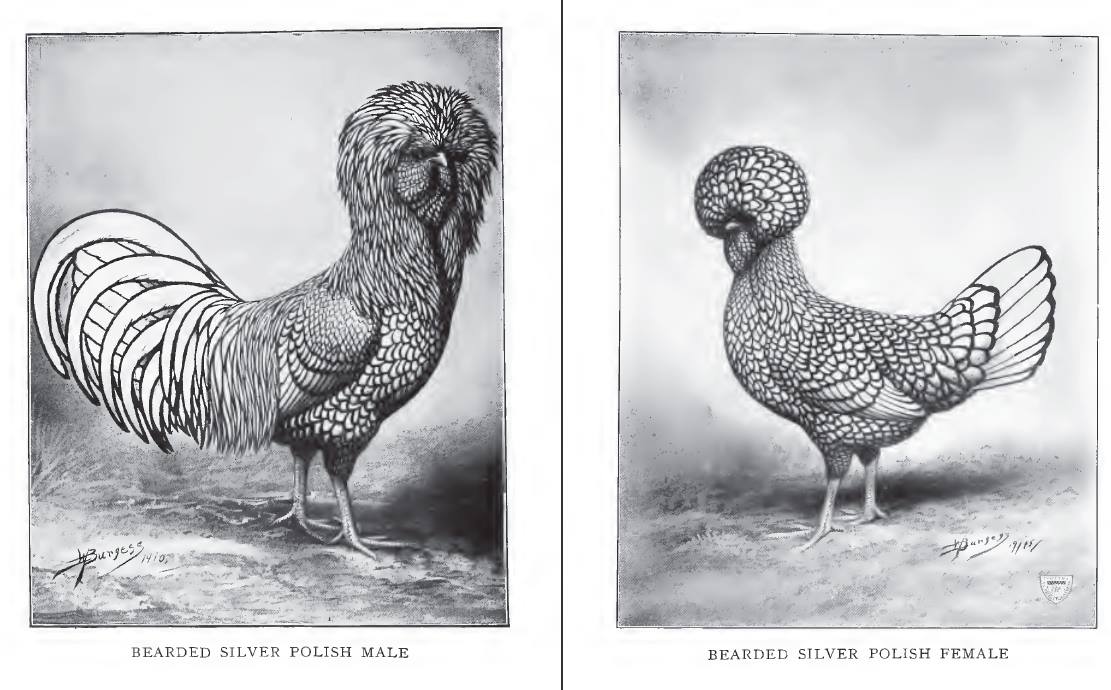 Artist Burgess With Poultry Success

Artist I. W. Burgess, Vineland, N. J., formerly of Indianapolis, Ind., and for several years connected with the Inland Poultry Journal as illustrator and artist, has been engaged by the management of Poultry Success, and will hereafter handle its illustrative features as well as doing work for poultry fanciers and breeders.
Mr. Burgess will be at the Grand Palace and Madison Square Garden shows as well as at other important shows of the season, to look after orders for photographing and artwork among exhibitors.
The excellent character of Artist Burgess' poultry illustrating and designing is well known, and needs no laudation on our part.
On account of ill health, Mr. Irvin Burgess has not been able to pursue his profession with as much ardor for a year or two as he otherwise would have done, but is now feeling physically able to go ahead with his work again, and we feel sure that this news will be a source of a great deal of pleasure to his many friends all over the country.
Orders for poultry illustrations, including birds, advertising designs, etc., can be sent direct to Poultry Success, and they will be promptly attended to and delivered.
By Poultry Success, December 1916