On October 28, 29 and 30, 2022, the Fraser Valley Poultry Fanciers Association (FVPFA) will be hosting the 2022 APA Canadian National Poultry Show in Abbotsford, BC, Canada.  We are excited to be welcoming exhibitors from across Canada to join us this year!  It has been a number of years since we last hosted a show, due to first COVID restrictions, and then mass flooding which crippled the community the week prior to our planned show in 2021.  Planning for this year has been complicated, losing our primary venue to the ongoing COVID testing and vaccination initiative, and then having to change dates to get a facility of equivalent size and calibre.  Alas, we are set to go and looking forward to welcoming everyone from far and near back to Abbotsford for the 2022 APA Canadian National!
As this is published, we are finalizing details for lodging and events, including a banquet and celebration activities to commemorate the return of the National Show to the West Coast.  Details will be posted on our website at www.fvpfa.org as soon as they are available, including host hotel, an event schedule, and entry package.  We are pleased to be welcoming Mark Camilleri and Nate Rynish as our judges this year and looking forward to a high-quality show for them both!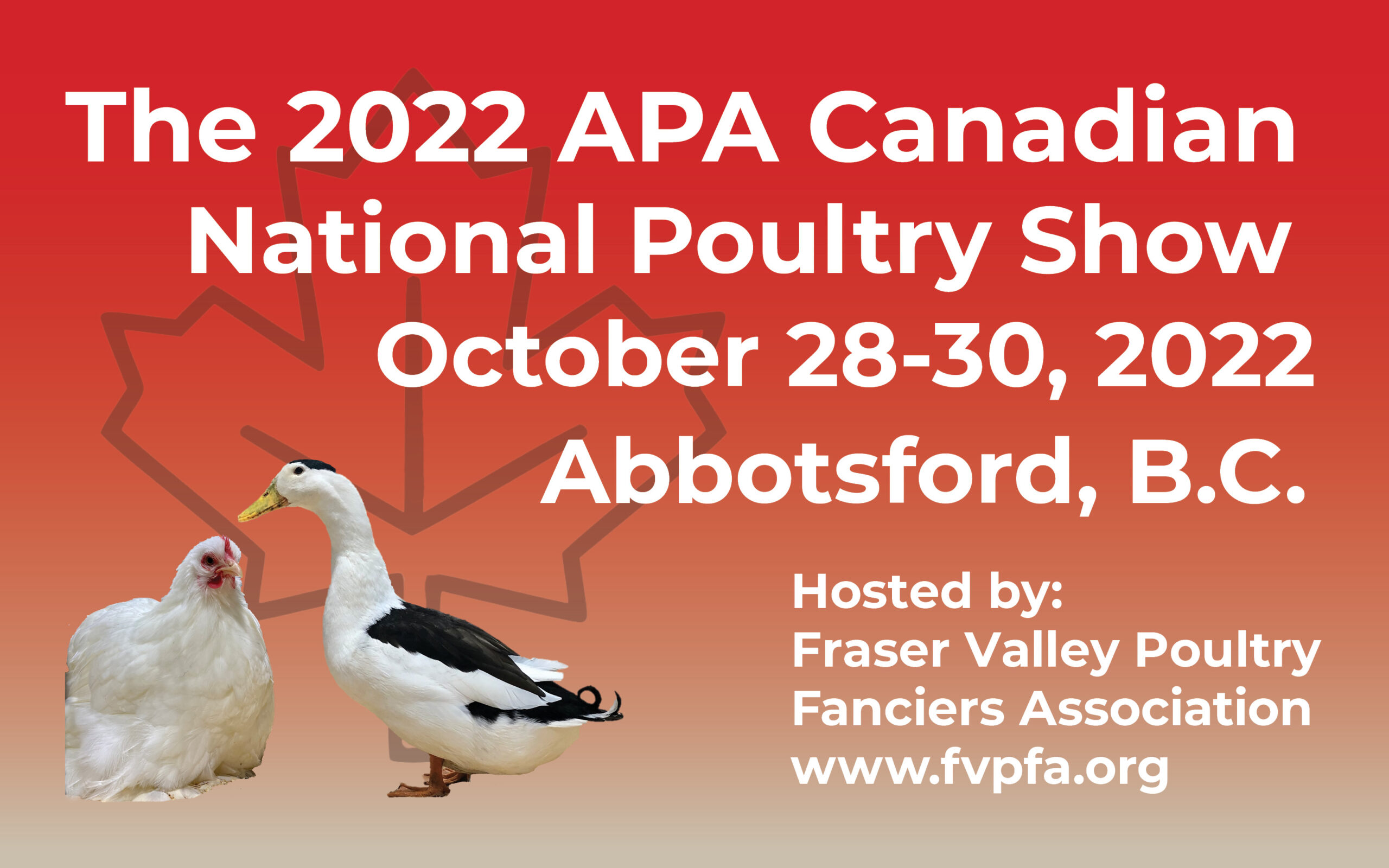 We are currently seeking sponsors and partners in presenting the show this year, as well as volunteers to help us with the many tasks associated with hosting an event of this calibre.  If this interests you, please reach out at [email protected]. For those considering travelling to the show, consider flying in and out of Abbotsford Airport (CYXX). It is well-served by a few airlines, and about a 15 minute drive to the show hall.
The FVPFA looks forward to the show this year, and welcoming our friends and colleagues back to BC after many years for a wonderful show and celebration that is not to be missed!
Clayton Botkin, P.Ag. B.Sc. (Hons), APA General Licensed Judge #1234