The American Poultry Association is pleased to honor
Lou Horton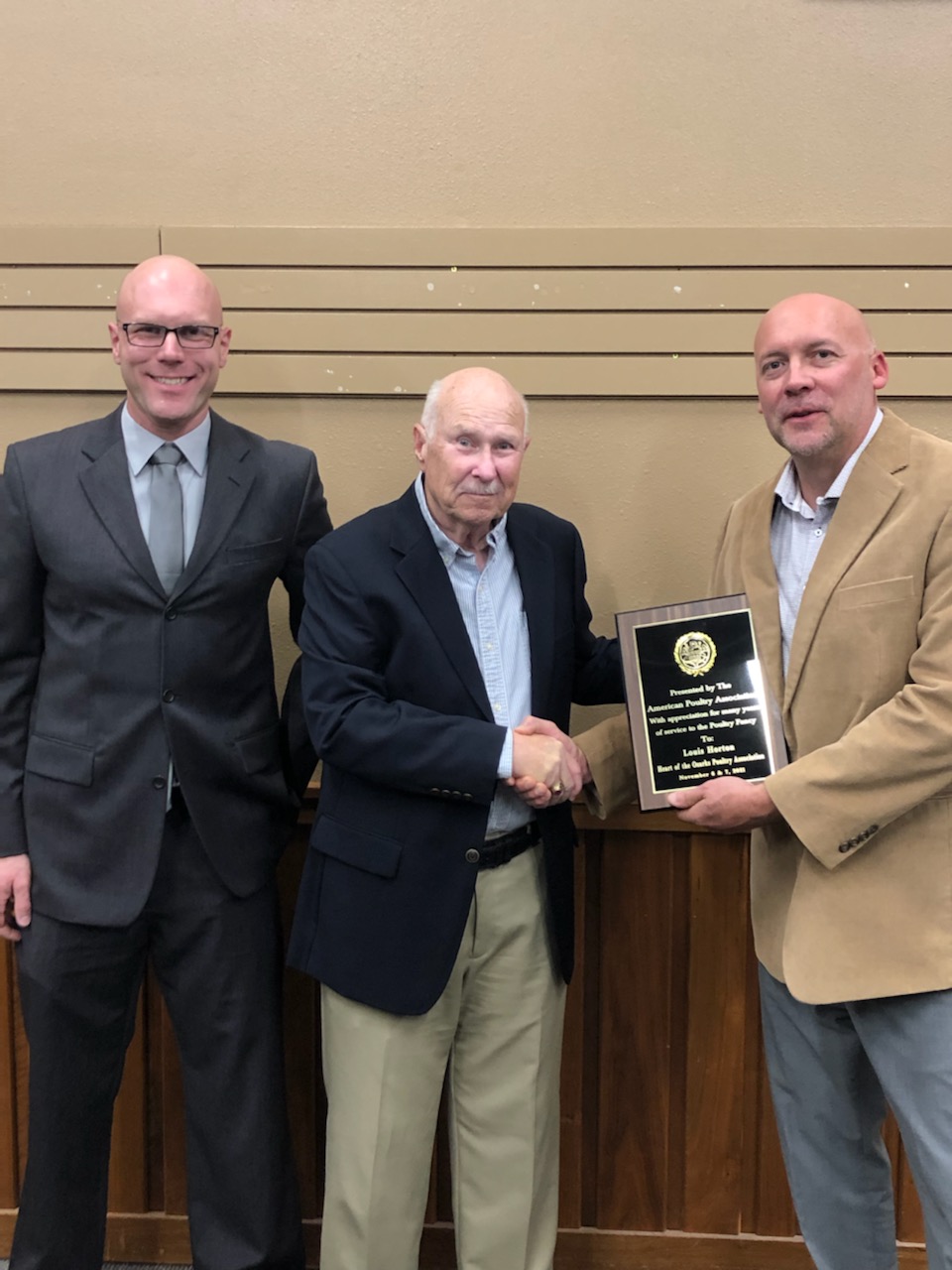 Lou Horton receives the award at the APA's 148th Annual Meet on November 6, 2021 hosted by the Heart of the Ozarks Poultry Association show in Fayetteville, Arkansas. Pictured left to right: District 5 Director Jim Laatsch, Lou Horton, District 11 Director Bryan Shelton

A few words from Lou:
At this writing, I am 76 years of age. I have raised poultry almost continuously for 65 of those years, having gotten my first ducklings as an Easter present from my mother at the age of 11. I began showing at local fairs at 16 years of age and have had the good fortune to show under some of the finest judges the APA has ever seen: John Kriner, Henry Miller, Al Barry, Oscar Grow, and Wilbur Stauffer to name just a few of those greats no longer with us.
I have raised all types of poultry during my life including ducks, geese, chickens (both large and bantam), turkeys, and guineas. Prior to taking my test for my Waterfowl Specialty license in 1970, I raised every form of waterfowl then in the APA Standard for a minimum of one year to familiarize myself with each of them. I received my license from the APA in 1970 at the age of 25. At one point of my life or another, I have had the honor of judging at virtually every show noted for good waterfowl classes including some in Australia, Canada, and the UK. I am perhaps most proud of judging the entire waterfowl class at the 1973 APA 100th anniversary show which was held in Columbus, Ohio.
It became a concern to me that waterfowl breeders had no voice that was devoted entirely to their interests so in 1971 I founded the International Waterfowl Breeders Association. I served as the first Secretary and also later as President of the IWBA. I was proud to write a monthly column in the Poultry Press called Waterfowl World for well over 30 years.
I retired in the year 2000 from my career as a school administrator and have enjoyed managing my breeding programs in bantam ducks and Wyandotte bantams as well as gardening. Recently, I chaired the Waterfowl sub-committee during the ongoing revision of the APA Standard.
My long association with the poultry fancy has rewarded me with the chance to make many friends along the way and I count some of them as my best friends in life.