Hear Ye, Hear Ye, Hear Ye! The Northeastern Poultry Congress is underway and moving full steam ahead planning this year's show. We are proudly announcing a very special show this year: we are hosting the 2022 APA Annual Meet and 149th National! The 'Congress,' as we are called, holds its show in West Springfield, Massachusetts at the Big E Fairgrounds. We have the largest, most modern livestock hall in New England. This cavernous space will be filled from end to end with top notch poultry.
We are consistently told the quality of the birds in the Northeast is amongst the best in the country, which is something we are very proud of! But what makes us really special is our volunteers and exhibitors, both of these groups are dedicated, hard core and very friendly! This is our 49th annual show and they tell us we are also quite well organized. For the hard core exhibitor, we offer some of the best competition around! The show hall is well lit and perfectly heated, with the cages only single tiered and with spacious isles. The judges are proudly hand picked from around the country by our show manager Brian Knox.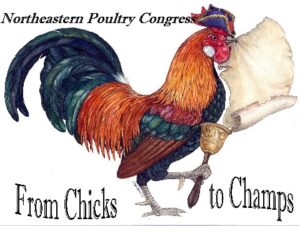 For families who show chickens, we have a very fun Junior department.The showmanship class is very popular and a well attended event. The junior show is a show within a show, with bird numbers totaling over 400!  The juniors get the same beautiful awards as the adults do, making it a very competitive and rewarding time for the kids.
We also have lectures, vendors, a super breeder silent auction, and a very active sales area. Since this is a special year, hosting the 2022 APA Annual meet, we are also having a Banquet! There are lots of hotels close by and Bradley International Airport is only 20 minutes away.
Info can be found on our current web site: http://www.poultrycongress.com/ or on our open info Facebook page: 2023 Northeastern Poultry Congress/APA Nationals Info Page. Feel free to reach me at showchicken@yahoo.com
We hope to see you there!
Cheryl Barnaba