Franklane Lorraine Sewell had a long productive career as an artist. From the March 1948 issue of the Poultry Tribune we learn that he passed away on January 5th, 1948.   His last work was the Black Leghorn done just past his 80th birthday.
He was born September 8, 1866 in Evanston, Illinois.  On December 11, 1893 he married Jessie Kean in Berrien, Michigan.  He is well documented on the ancestry websites due to his sister's extensive family.  It is from there that we learn more about the man.
Noted by his family member Sue Langley and others, Mr Franklane Sewell was a friend of Robert Frost who immortalized him by mention in the 1936 poem "A Blue Ribbon in Amesbury":
"It seems as if you must have heard
She scored an almost perfect bird
In her we make ourselves acquainted
With one a Sewell might have painted."
We can find no obituary or tribute in the poultry papers of the time, which is sad for such a talented man to pass relatively unnoticed by the hobby, but looking back that was a difficult time with the country attempting to recover from World War II.
From Sue Langley, relative of Franklane Sewell, we learn that Sewell lived in Buchanan, Michigan for many years.  He lived in a house on Walton Road that he designed and built.  The house had a special studio in it with a north facing skylight. There was both a very fine chicken and brooder coop on the property.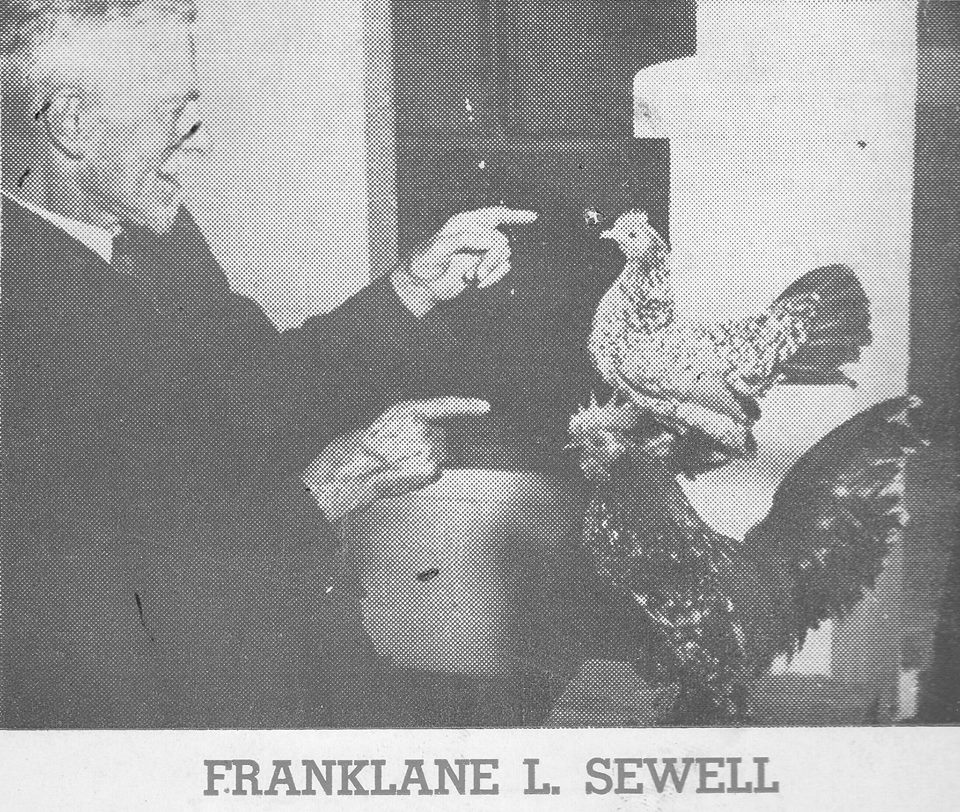 Artist Sewell's Home and Studio in the Michigan Woods

Taken from Reliable Poultry Journal – May 1911 issue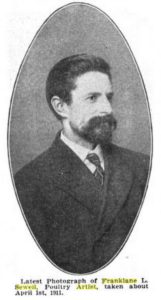 Recently Franklane Sewell, whose work as a poultry artist is known and admired in every corner of the globe where Standard-bred fowls are produced, sent us four photographs—one of himself, one showing his new home and studio, the other two presenting winter scenes in the woodland which forms part of the fifty-seven acre tract owned by Mr. Sewell and occupied by himself and family.
Eighteen of the fifty-seven acres are in trees, planted by the lavish hand of Nature, and through the woods a large spring brook tumbles along into the St. Joseph River which bounds Mr. Sewell's home on one side, the river at this point being one hundred and fifty feet wide and navigable for small craft.
Mr. Sewell did not expect us to have cuts made from these photographs and he will be surprised to see the pictures in this issue of Reliable Poultry Journal, but we felt sure that his many friends would like to obtain these glimpses of his new home and surroundings and would specially enjoy seeing this latest portrait of Mr. Sewell himself—a picture taken only a few weeks ago. Writing to us under date of April 5th, Mr. Sewell said, among other things:
"I have been wishing to write, answering your kind letter of several days ago, in which you were so good as to inquire about my father's health, I am very thankful to say that he is much improved, partly on account of his interest in our new home since he came out here to live by us. Only yesterday he came in with a little peach tree that he recognized and dug up from the road side. I got him to plant it close by his little cottage near mother's window. The seed time and the garden are getting interesting to him and these little interests are just the things I am glad to see him taking up again. He passed his birthday last week, right hopefully"

"From the photographs I am enclosing you will see that the same snow that you mentioned, although it did not become of the complexion of the city sheets, made everything as lovely as an Old-fashioned wedding cake, out here under the cedars, by the brook. This is the very same bend in the brook where little 'Billy' Curtis and 'Beth' Sewell rolled over and over and 'bub-bub-bubbled. You will have to be the judge of the photo of myself, as to whether or not it is better than the old one. We are most happy in our new home and are sure that these delightful surroundings will add variety to our work and prove of value to Reliable Poultry Journal."
Time and again friends of Mr. Sewell have asked him why, in time past, he has not moved to some city like New York, Boston or Chicago, where he might expect to have greater advantages in his art work. His answer invariably has been that be prefers the Great Author of Nature as his master, not only in art, but as the director and inspiration of his daily life.
Mr. Franklane Sewell, as the world's greatest poultry artist, copies Nature and thus keeps close to Truth. The backgrounds for the beautiful pictures he makes for publication in these pages are obtained from Nature, as a rule. Mrs. Sewell is a student-photographer and often takes picturesfor her husband to use as appropriate settings for the life-like groups of fowls that delight and encourage discriminating readers of the poultry press. She is a helpmate in deed and loves woodland life and rural scenes with a depth of feeling equal to that of Mr. Sewell. They have three healthy, robust, intelligent, obedient children, a son and two daughters. Mr. Sewell's father and mother occupy a new cottage near Mr. Sewell's home in the woods—an ideal arrangement.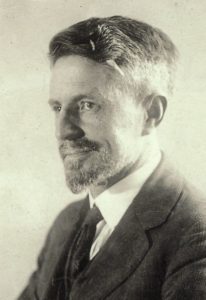 The fifty-seven acre tract is part level and part hilly. Mr. Sewell is able to do some farming on his own land to advantage. The eighteen acres of wood land is quite hilly, with a strong, crystal-clear brook flowing through the valley to the river. There are rocks, gnarled stumps of former monarchs of the forest, gravel beds, mossy banks, clumps of underbrush, trailing vines, wild flowers, everything of the kind to appeal to a man and a woman like Mr. and Mrs. Sewell, happy mortals, whose eyes will stay bright and in whose blood the energy and spirit of youth will remain in the natural course of events, ten to twenty years longer than would be the case if they were "modern cliff dwellers" in some big, noisy, bustling city, where the dollar in is the every-day measure of values and where life's precious span is sadly shortened by the stress of what we call "The Strenuous Life."
Below are examples of Franklane Sewell's work.  It is impossible to catalog here all of his work. One would exceed the capacity of this page from just a few issues of the Reliable Poultry Journal during the hey-day of his career.
Within these examples you will notice two different styles.  One is artwork, drawn entirely by the artist.
The other method is what we would now call retouched photographs.  The poultry artist would take a photograph of the bird(s) and then retouch it to more closely match the Standard-bred ideal.   This process was hotly debated at one point, by some labeled as faking or misleading the public as to the quality of the birds portrayed.