The American Poultry Association is pleased to honor
LeRoy "Lee" Morey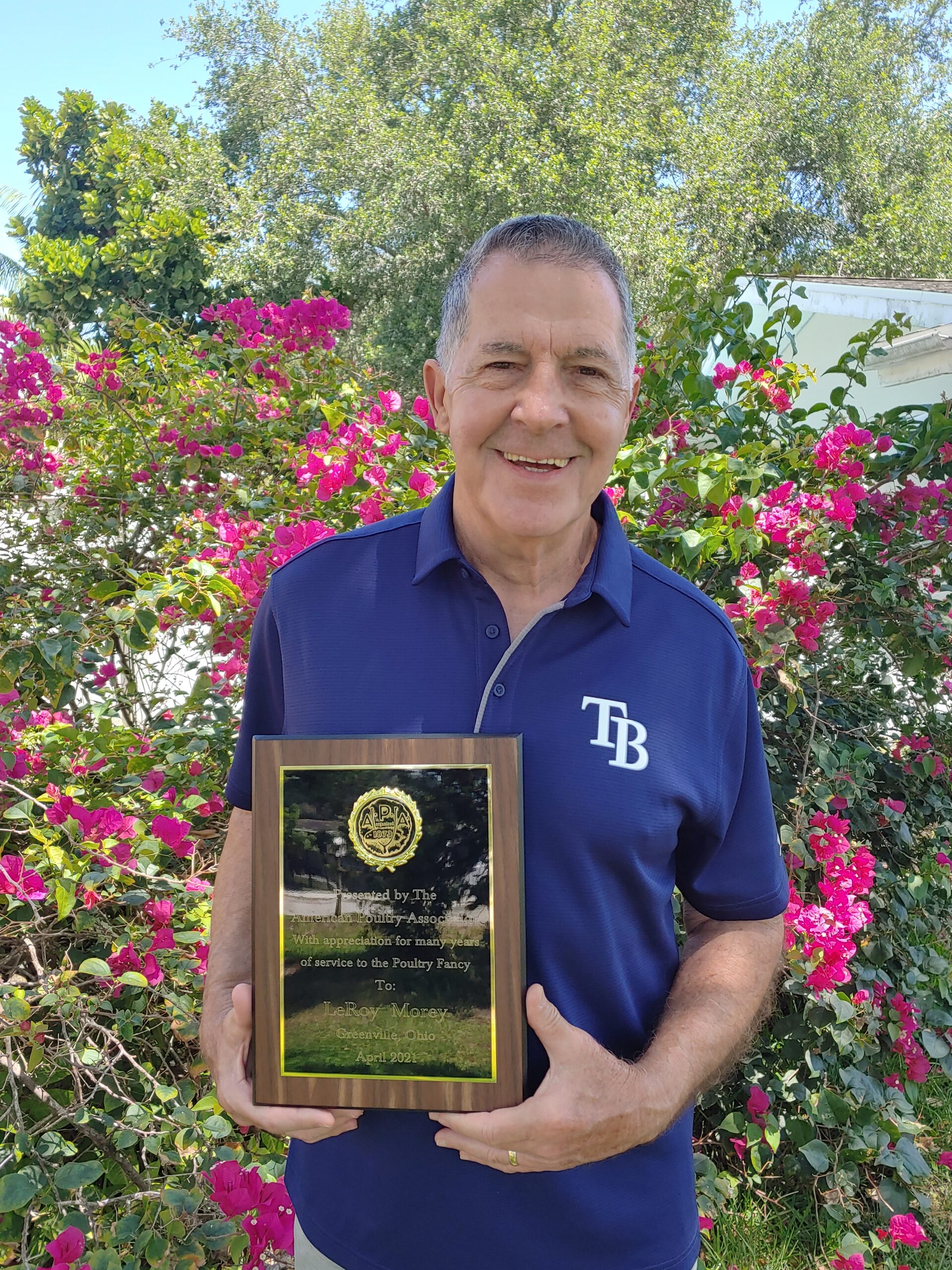 A few words from LeRoy Morey:
I was born into the poultry world. My mother's father, Ralph Sage, was an APA judge. My father, Ralph Morey was also an APA judge.
My first chickens were Mille Fleur Belgian Bearded d'Anvers. My first ducks were gray calls from Henry Miller of Pennsylvania. My mother and father put on the Sherburne Poultry show for years. One year they put a big tent right next to our house to host the show. Other years they held the show in the Sherburne Inn garage. They would put me in a chicken cage to keep me out of the way so they could get the show set up. Growing up I was in the 4-H Club. I won a trip to New York City for a chicken project I completed with my father's help. I was in the FFA in high school and we learned to judge poultry and cattle.
My dad and others showed at the local fairs as I was growing up. I would also show my poultry and ducks at the fair. My dad had all kinds of poultry. We took them to the fairs around us. My dad was a small stringman. My job in the summer was to stay at the fair and take care of all the poultry at the fair. Going to the fair was like going to summer camp for me. This got me out of putting hay in!
When I was sixteen, I worked at the New York State Fair in Syracuse with John Pierce and Alex Duffy Jr. under the supervision of Superintendent Charlie Burmaster and Assistant Superintendent Arthur Schallenberg in the poultry building.
When I graduated from high school I went to Cobleskill Ag and Tech in Cobleskill, New York from 1961 to 1963. My major was animal husbandry. A week after I graduated from Cobleskill, I joined the Army. I was a military policeman from 1963 to 1966.
After the army, I attended and graduated from the University of Tennessee at Martin in 1971. I majored in Physical Education.  I moved back to New York State after graduation. My father got me back into showing and raising chickens and ducks. This time I raised white and black Wyandottes. I had standard and bantam in both. I was district director of the Wyandotte Bantam Club. I also got back into Call ducks with white and gray varieties.
We moved to Florida in 1981 and I had to sell all my poultry. I was so busy coaching and teaching I had no time for raising poultry. About five years passed before I started raising Call ducks again. I was in the United Call Duck Club. I got hooked up with Ed Cline and his club the National Call Breeders of America. I was a district director in the club for years.  I have also been a district director of the International Waterfowl Breeders Association. I joined the Florida Poultry Fanciers Association and the Central Florida Poultry Breeders Association. For years, I helped set up and tear down the shows. Danny and Norma Padgett and I traveled to several shows together.
Over the years I have raised several varieties of call ducks. I raised whites, grays, buff, butterscotch, chocolate and pastels. I assisted in getting the chocolate call duck into the standards. I also always had an interest in wild ducks. I have raised several varieties of wild ducks over the years. Some of my favorites are the Ruddy duck, Hooded Merganser and Mandarin. I love to raise about 100 to 150 Call ducks each year.  I enjoy watching them fill out and grow.  When I hatch the next one I think, this one could be the next champion. I love going to shows to see how my calls compare to the other breeders. I love talking to people about call ducks and teaching them what they should be looking for when picking out call ducks to show.
One thing I have learned is that your strongest competitors are the people who push you to work harder on your breed so you can compete with them.  Art Lundgren, Jane Freeman, Charley Hodum and Ed Cline have all helped me. I have showed all over the United States and loved competing against the best breeders in America.
I am an APA Master Exhibitor #344 and a Grand Master Exhibitor of gray and white calls. I am also an ABA Master Exhibitor #328 and an ABA Master Breeders of White Calls.
I want to thank the APA for considering me for this honor. It has been a pleasure to show with all of you.