Sixty years ago this month the greatest poultry artist passed away.  Arthur Oscar Schilling died on June 21, 1958 at the age of 76 in Rochester, New York. He was born in Germany on May 14, 1882. Close friend Ben Ricketts reported that even though he had been in very poor health for the last five years that he never lost his magic touch with the pen and brush.
Dennis Meyer shared that one of the last if not the last painting Schilling did was a large painting of one of Mr. Feck's RC Reds in 1957.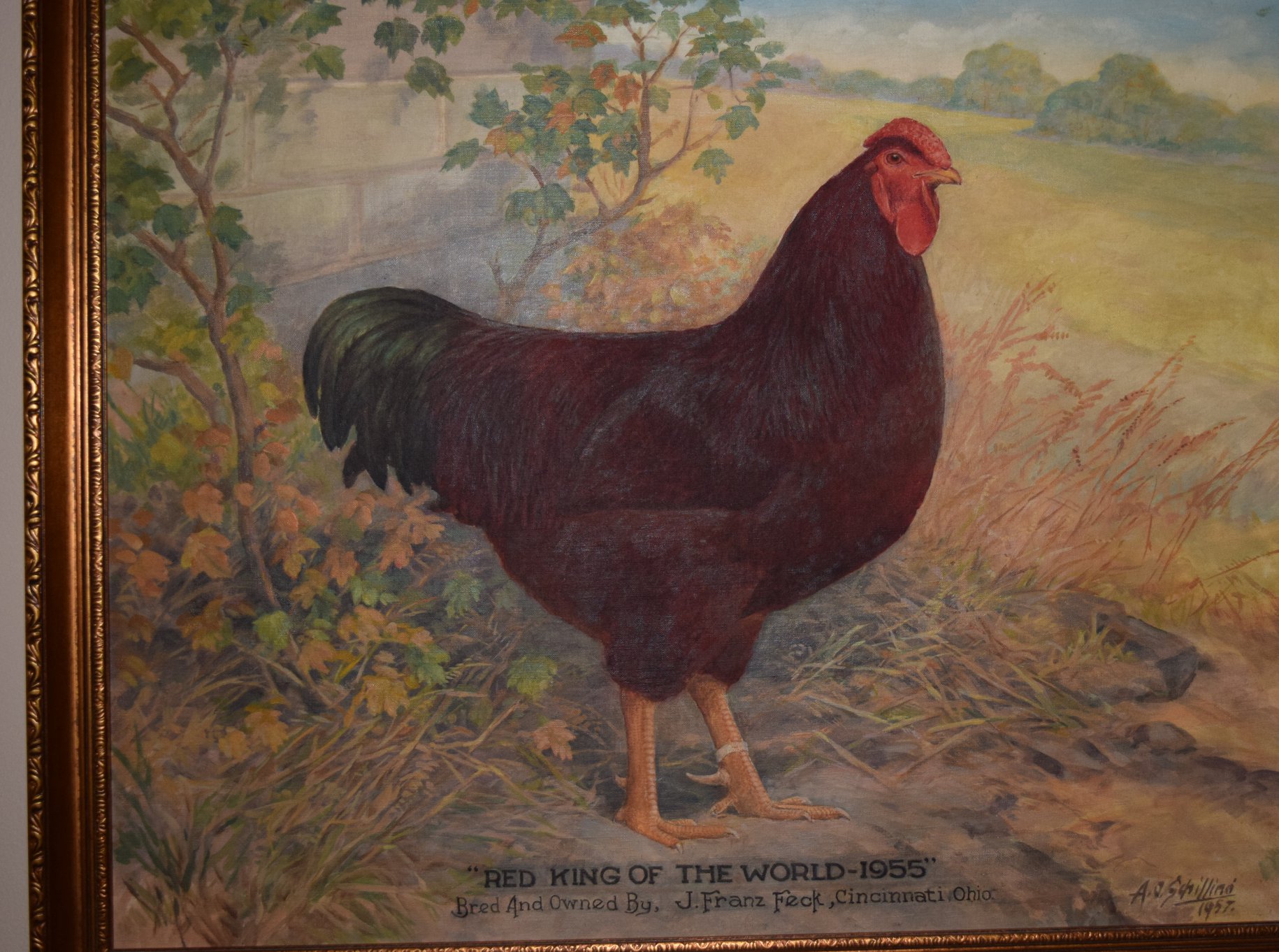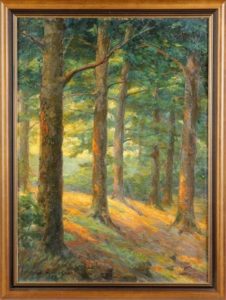 Schilling did not begin his life as a poultry artist.  He was a landscape painter before he turned to depicting animals and poultry.  His animal illustrations have appeared in many national magazines.  He was a licensed American Poultry Association judge and judged poultry shows from coast to coast and from border to border – Canada and Cuba.
A native of Germany, Mr. Arthur Schilling was brought to the United States by his parents when he was a year old. He lived in Geneva before moving to Rochester.  He began his art training while in 7th grade at the Mechanics Institute, now the Rochester Institute of Technology.  At 11 he was the youngest student in the school.  Later he studied at the Albright Art Gallery in Buffalo, the Chicago Art Institute and in Germany and Belgium. Throughout his career as an artist he continued to seek out education to hone his craft.
In 1911 he toured in Europe.  At Munich under the tutelage of several masters, the Rochester painter specialized in figures and landscapes.
To us he will always be the preeminent poultry artist.  The first illustrated Standard of Perfection was published in 1905 and consisted of pen and ink drawings, the majority being by the master in this line, Franklane Sewell.  The American Poultry Association did not have a staff artist but instead sought bids from artists for their services in illustrating the Standard.  Mr. Sewell introduced Arthur Schilling to the A.P.A. and undoubtedly assisted him in securing bids.  Later in life, Schilling told Ben Ricketts that Franklane Sewell was a mentor and wonderful gentleman and helped him in every way to get started.
In the 1905 Arthur Schilling, as a young man of 22, had his drawings of Black Rose Comb bantams, Black Cochin bantams, Black Tailed Japanese and Indian Runner ducks selected for inclusion in the Standard.  He may have been new to drawing poultry but his work was marvelous and that of a fully matured artist.
Five years later in 1910 the system of wash illustrations began to be used in the Standard and Schillings illustrations included many of the large fowl, all Bantam illustrations but one, and all waterfowl illustrations.  As Ben Ricketts wrote: "From then on he reigned supreme as our finest poultry artist."
In 1948 he was commissioned to help design a three-cent postage stamp marking the 100th anniversary of the founding of the poultry industry and the first Boston show.  The stamp included an illustration of Harvey Wood's prize winning Light Brahma male.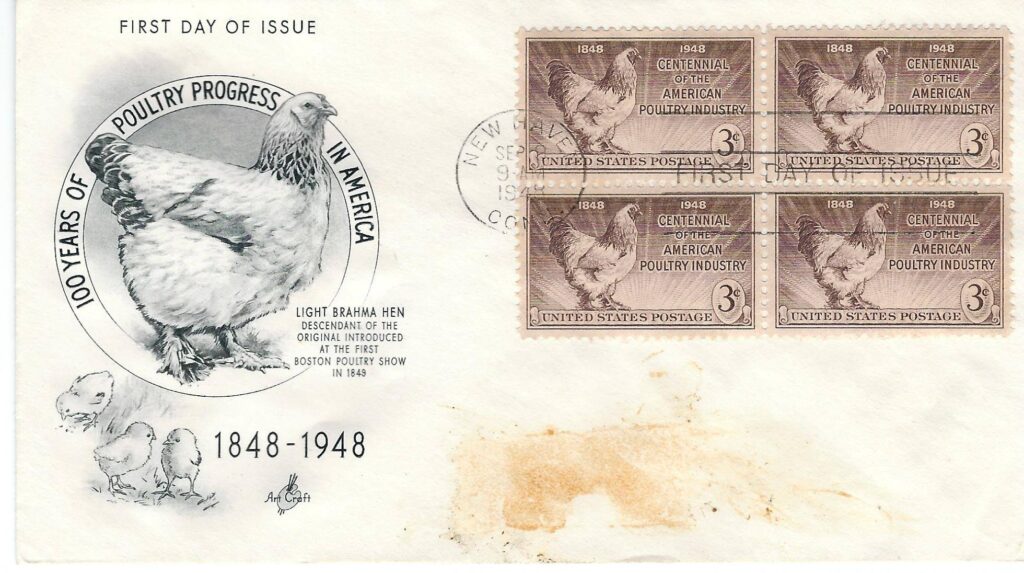 From the obituaries you would assume that Schilling was a Rhode Island Red man through and through. Schilling was working on a book on Rhode Island Reds when Mr. Curtis, editor of Reliable Poultry Journal, told him to put all the Rhode Island Red data aside and work on getting "The Production of 300 Eggers and Better by Line Breeding" ready in print. Schilling never got the go ahead from Mr. Curtis to restart the book on Rhode Island Reds. It is readily apparent that the great breeders of Rhode Island Reds at that time coveted his work, they inducted him into their hall of fame but he was a Champion of all breeds.
That is not to say he did not have his favorites.  He and his brother Bruno were known for far and wide for their Single Comb White Leghorns.  From those, over a period of 26 years he worked to develop and perfect the Single Comb White Leghorn bantam.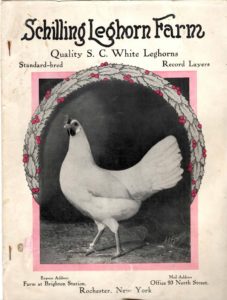 An article on the history of the Milie Fleur Booted Bantams (modern day d'Uccles) cites Arthur Schilling as the man who introduced them to America.   The article states:
"The first Mille Fleurs that came to North America were brought here by Arthur Schilling. The great artist still a young man when traveling in Europe, he discovered in Belgium this beautiful breed of bantam."
Mr. Ricketts states that the Mille Fleurs were brought to the U.S. in 1911 and were admitted in the Standard as early as 1914.
As a person, Schilling paid great attention to detail in his writing, his manner and his artistry.  Mr. Ricketts wrote of his friend of 15+ years:
"I do not believe I have ever known a man with a kindlier disposition, and one who I never remember speaking an ill word against another.  If ever a man was 'his brother's keeper' it was Arthur Schilling, for he accepted every man for what he was and seemed to enjoy all people."
Schilling made his living as an artist.  Following is an article that appeared in the August 1915 issue of Reliable Poultry Journal.  It was titled "A. O. Schilling Joins R.P.J. Art Staff":
Beginning this month, Arthur 0. Schilling, Buffalo, N. Y., well-known poultry artist and writer on poultry topics, especially standard-bred subjects, becomes permanently connected with the art staff of R. P. J. This is indeed a valuable acquisition and we know that thousands of our readers will appreciate it and look forward to further strength in these pages, not only as regards high-class poultry art work, but also in the way of helpful articles containing expert advice on line-breeding, selective mating, etc.

Mr. Schilling's development as a poultry artist has been noteworthy in deed. His early work of importance appeared in the 1905 Standard of Perfection. the first illustrated Standard published successfully by the American Poultry Association. His work then was crude, but it showed earnest thought and since then Mr. Schilling's progress has been truly noteworthy.

This has been true not only of poultry photography and allied art work, but also in his success as a landscape and portrait painter. To further advance his knowledge of technique. Mr. Schilling visited Europe three or four years ago and spent considerable time in Germany and Austria, where he received instructions from painters of international fame.

Readers of this journal who expect to need the services of Artist Schilling are requested to address him care of the Reliable Poultry Journal, Quincy, Ill. He is prepared to accept orders for work to be done at fall fairs and four or five of the leading winter shows, including Chicago, New York and Boston, and also is well equipped for studio work, including the posing and photographing of choice specimens. Among other points, Mr. Schilling will attend the New York State Fair. Syracuse; September 5-10. inclusive, where he will be glad to meet old friends and make new ones, as representing the Reliable Poultry Journal.
We know that later he worked for the Poultry Tribune and there he produced some of the large poultry breed murals in the Watt Publishing collection.  And yet, he was allowed to free-lance as each fall show-season he went on the road to photograph and retouch pictures of winning birds.  And then there is the work he did as a Standard artist.  Simply put we don't know the exact details of his employment, but that is OK as his employers made him available to the public and for that we are eternally indebted.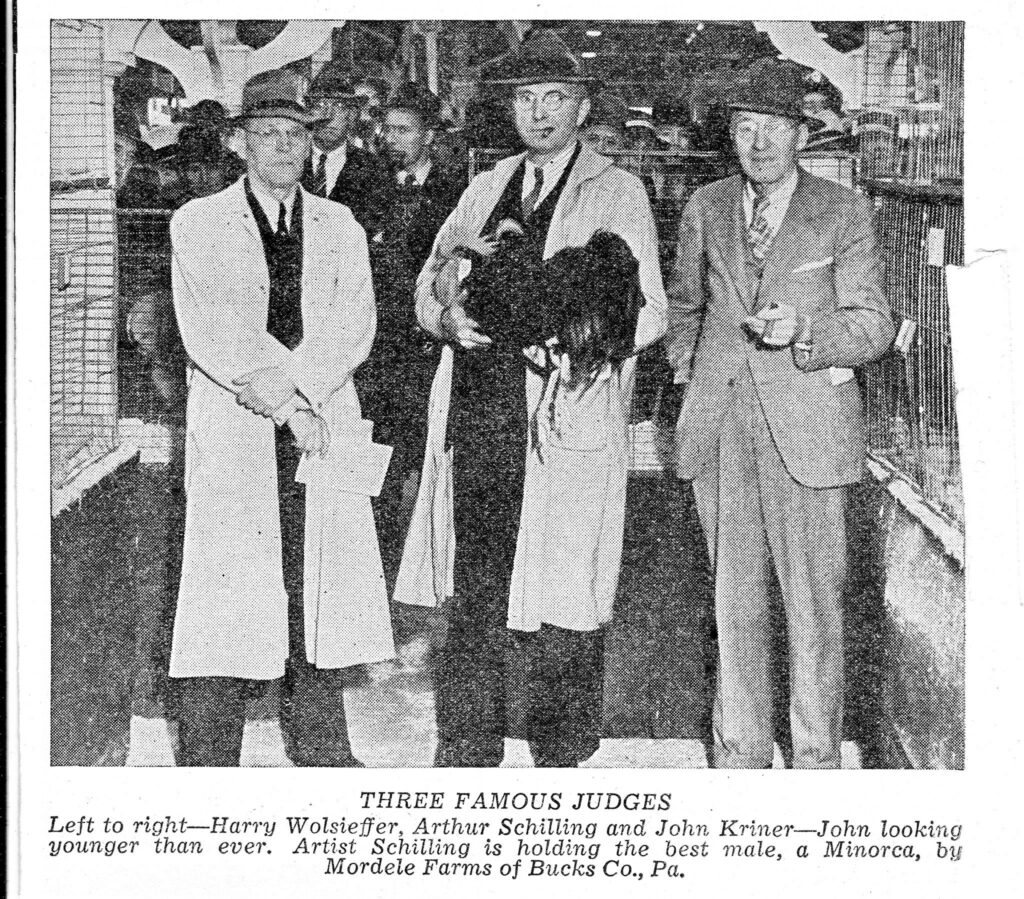 In addition to being an artist Schilling was a judge held in high regard and often in demand.  One need only open a few of the periodicals of the day to see his name in the reports of the leading shows, either as an exhibitor or as a judge.   This excerpt from the Rhode Island Red Chronicle newsletter best summarizes it:
"Schilling is also one of the best poultry judges in the world.  Each fall he packs his valise and tours the 48 states to hang ribbons on the heads of chickendom's best.  He has judged shows from Canada to Cuba, from Boston to Los Angeles.  He has even been invited to preside at fowl fairs in Europe."
Schilling was a member of the Standard Revision Committee for nearly 40 years.  Without a doubt few men have left such an indelible mark on the Standard of Perfection.   Having reviewed many periodicals about the 1905, 1910, 1915 and 1923 Standard revisions, his was a voice that came through often championing the cause of the breeders who had perfected and bred the best of a variety.  He was not one to give sway to fads.
In the poultry papers of the day there was quite a bit of coverage of the work done for the 1915 Standard.  This was a departure from the breed drawings to the more idealized specimens.  The artists would review the Standard in detail then attend a large show to inspect the best specimens, take photographs and work to blend the photograph to match the Standard description.
Schilling was such a prolific artist that it is impossible to include even a 10th of his work in this article. Here is a set of plates that were created spur of the moment to illustrate the differences in body type.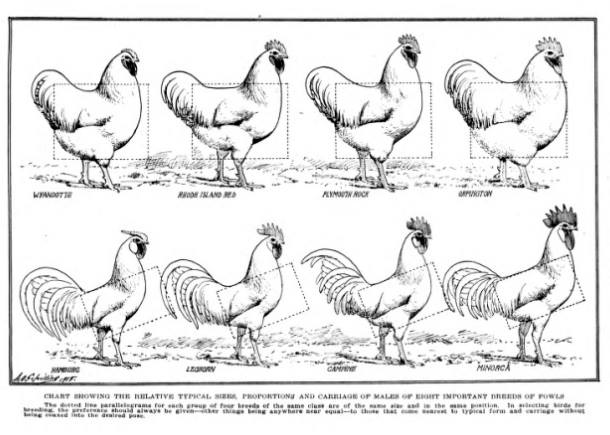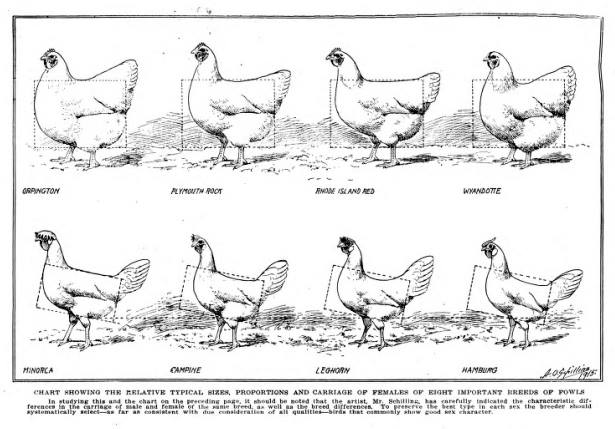 But to us he is best known for his work in the Standards themselves, and his ability to take a live bird and convert it to a piece of artwork suitable for inclusion in the Standard of Perfection.
Here the reader must indulge the author as this is a topic which I have some personal experience.  In the Dominique breed I have had the luxury of seeing photographs of the "specimens", seen the first drafts, enjoyed the final result and once had the luxury of inspecting the retouched photographs of the breed.
What follows are the original A. Q. Carter Dominiques that were winners at the 1912 Boston Show.  Sewell stated at the time that they were the best representatives of the breed he had seen at the time.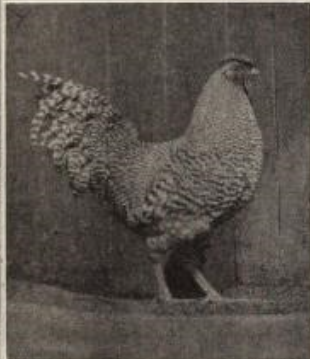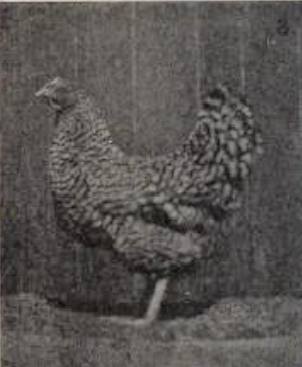 Below are the pictures after Sewell retouched them.   Had they gone no further they would have been "nice birds" closer to the Standard description than the older Smith/Sewell depictions.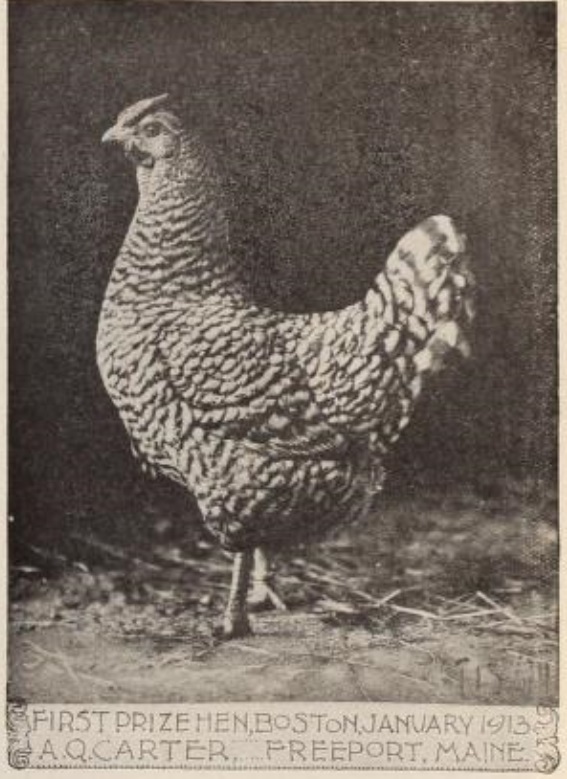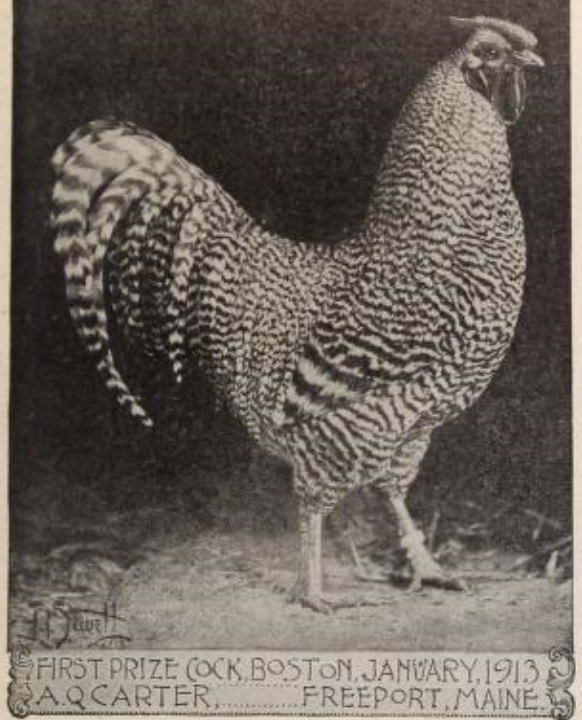 Though the documentation is scant we do know that the Standard Revision Committee referred them back for further retouching.  Sewell was busy with other work at the time and as the junior artist the project of retouching them fell to Schilling.
When Schilling finished the end-result was a highly stylized pair that closely follow the Standard description of the breed.   On inspection of the Schilling photographs with a magnifying glass you could see where he had adjusted things like the tail length and shape.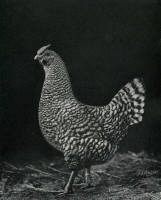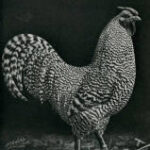 This is not an isolated case.  Many breeds continue to use the Schilling artwork as their breed types, a testament to his abilities to capture the essence of the breed as defined by the Standard of Perfection.  In this matter I leave you with these final words as written by Robert F. DeLancey editor of Poultry Press at the time of Schilling's death:
Arthur Schilling is dead… The last of the big three – Stahmer, Sewell and Schilling – has gone to his rest.  The end of an era has come.  Standard-bred poultry has suffered a staggering – though inevitable loss.  Thankful we should be that although the man is gone, the fruits of his labors on Earth remain as a monument to him – not a cold bronze or marble affair, but a living, breathing memorial in God's feathered creatures.

It was the pleasure and privilege of three generations of Editors of Poultry Press to know, love , respect and honor this man.  Working together through the years – he making the photographs, paintings and plates and we showing them to the world – We learned to know each other well despite the fact that two score years separated us, we still found a common ground on which to stand.

It would be unfair to say that Arthur Schilling was the greatest fancier who ever lived, for we are not equipped to judge greatness.  We do feel, however, that as long a Standard-bred rooster crows and a Standard-bred hen cackles and as long as there are poultry shows and judges and poultry clubs, the name of Arthur Schilling will be mentioned – mentioned with the respect due it – for here was a man to whom we will forever be indebted and for whom our hearts will always hold a place.

Lives of Great Men oft remind us
We can make our lives sublime
And in parting leave behind us
Footsteps on the sands of time

– Robert F. Delancey
An interesting footnote to our history on Schilling.  In April of 2017 Angela Sinatra-Vito gave us the following information:
When cleaning out our old house at 271 Laurelton Rd., Irondequoit, NY, we discovered 2 of these boxes. We knew at one time an "artist" lived in the house because our attic had a dark room and a second room facing the street, set up for painting. This is where we found these items. We had no idea who Arthur O. Schilling was until I just came across these 2 boxes recently, cleaning out a box of things and decided to google him!

Wish I knew then I was living in such a well regarded persons home. Now it makes me wonder if that's why there was a deck from the second floor, going over the driveway. Maybe art inspiration?
Here are just a few Arthur Schilling samples: